With Kabir & Camille Helminski, Authors, Poets, Translators
7 nights from: January 25th to February 1st, 2020
7 nights from: February 1st to February 8th, 2020
Two week-long programs, each with its own theme, and yet each arising from the lived moment and the confluence of souls.
Poetry, prose, song-writing are all welcomed. Seasoned or aspiring writers. Attend either week, or both.
Week One: Awakening Expression, the Power of the Word. Finding our voice; working with metaphor, symbols, sensory detail; escaping our own cliches, breaking through expectations; perfecting our craft; finding the sacred in the mundane. From stream of consciousness to the classical forms of quatrains and ghazels, good writing is something authentic, individual, and mysterious.
Week Two: Beyond the Matrix; Getting to the Truth. Great writing is about awakening the powers of imagination, and also about emotional honesty. What we mean by "the Matrix" is everything that keeps us stuck in a false reality — some of it socially engineered, some of it self-imposed.
A spiritually oriented writer's retreat at the beautiful Zen Spirit Yoga Retreat located right at the pristine Playa Coyote on the Pacific Coast, Guanacaste, Costa Rica (zenspiritcr.com) This event is appropriate for anyone who wishes to improve their capacity for written expression, access their imagination, and increase their appreciation of spiritual literature and culture.
A video about the 2019 Costa Rica Writer's Retreat: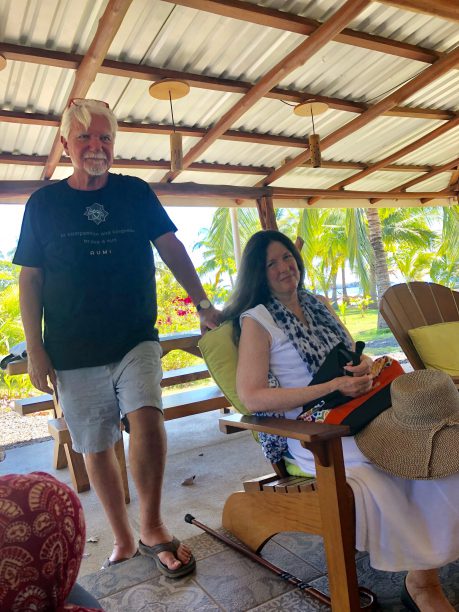 We will focus on the power of writing to explore the soul, the world we live in, and the nature of reality. Several hours each day will be spent in scheduled sessions, including one meditation session per day, leaving abundant time to appreciate the natural beauty of the ocean and the Costa Rican environment. Limited to about 24 people.
Three meals per day of the highest quality natural foods with vegetarian and vegan options.

Travel: Fly to Liberia, Daniel Oduber Quiros International Airport (LIR), Costa Rica
Upon your arrival into Liberia, Zen Spirit can arrange for you to be met by a shuttle which goes direct to Zen Spirit (about 2 hours).
You may also choose to arrive earlier in Costa Rica and rent a car. We will help to coordinate arrivals of guests and potential ride sharing.
Early Discounted Rates (which will increase by $200 after December 1st, if spaces are available):
Double occupancy (King Room) $1800 per person (per week)
Triple occupancy (Quad Room) $1600 per person (per week)
Single Occupancy (small singles) $2300, if available (per week)
Room description (If you are new and don't know anyone attending, be re-asssured, We take special care in pairing roomates and attendees are always most exceptional people. Past attendees have emerged as life-long friends 🙂
The King room in double occupancy: two extra long individual beds, large bathroom, hot water, private outside or inside shower, safety box, solid wooden furniture.
The Quad room usually in triple occupancy: one queen bed and two extra long individual beds, large bathroom, hot water, private outside shower, safety box, solid wooden furniture.
There are a few small single rooms ($2300), set further back from the beach with less of a view.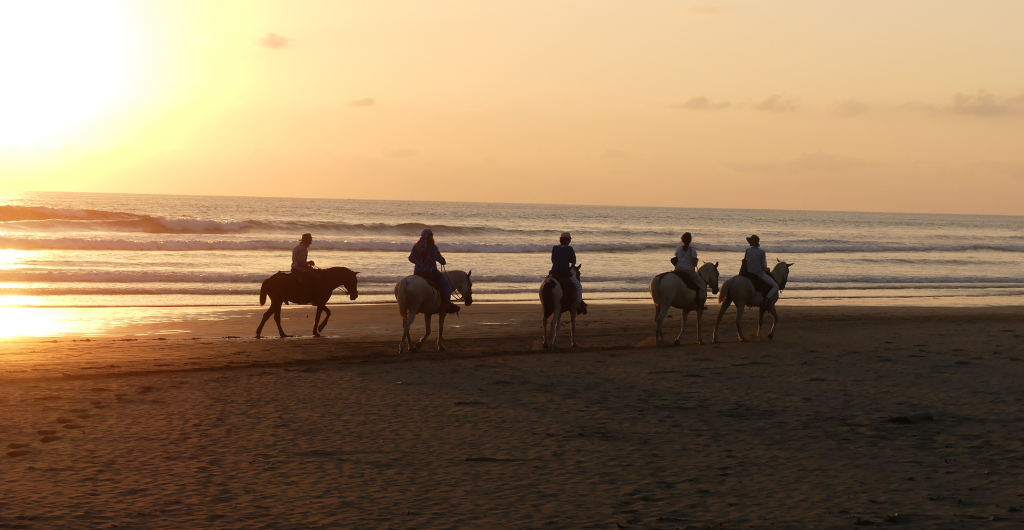 Horse-back riding along miles of empty beach.