Practices of Coherence
UK Annual Retreat Aug 24-26/27, 2018
Gaunts House, Dorset
With Shaikh Kabir and Shaikha Camille Helminski
Selcuk Gurez, Master Mevlevi Musician from Turkey
Jeremy Henzell-Thomas, Visiting Fellow, University of Cambridge

During times of change and challenge, our refuge and strength is the holy Mysterion accessed through the Heart.
Join us for a contemporary experience of sacred space, beauty, friendship, whirling, music, poetry, and prayer in beautiful countryside with precious community!
Registrations are now open. The main retreat will start on Friday 24th August at 5pm with arrivals/registrations. We will again have an additional day with a lighter, more informal schedule. The main retreat will end at 2pm on Sunday and the additional day will begin from 3pm, ending 2pm Monday. We ask attendees leaving on Sunday to kindly begin their onward journey before 3pm.
FRI-SUN ADULT Boarding £285, Camping £220
MONDAY ADULT Boarding £120, Camping £80
Download more details and registration form here.
Please register your place as soon as possible.
Please read all the information carefully and contact Saimma
if you have any questions: thresholdsociety@yahoo.com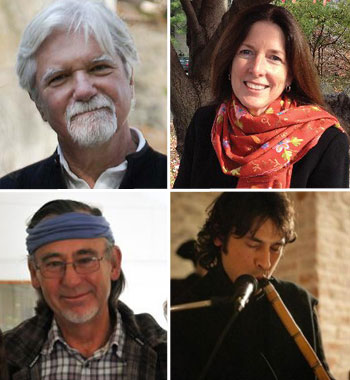 Bring your ney for a music lesson from master Mevlevi musician Selcuk Gurez!
Witness Selcuk's mesmorising ney piece at the Festival of Faiths last year: