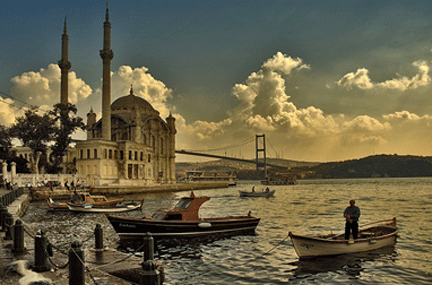 This journey is for spiritual seekers, members and friends of the Threshold community (limited to about 30 people). Since we can only bring a limited number of people, preference may sometimes need to be given to active members of our own community. What makes our trips transformational are the people we visit and the quality of intention we hold. This is a dervish journey, not a vacation tour. Our itinerary will include: visiting Sufi friends & communities in Istanbul, a few days with nature & Sufi music & whirling at Kerpic Eviler near the Mediterranean coast, and a few days in Konya to experience the most sacred sites of Mevlevi tradition. beginning with dinner on Friday 6th and ending the morning of September 16th.
I. How to Register for the core journey (itinerary follows):
1) If you would like to "be on the tekke bus," please first email  Saimma Dyer:  saimma_j@yahoo.com as soon as possible, at least by (April 15th), to let her know you would like to go ahead and make your deposit and want to confirm there is still space.
Please let her know if you prefer to share a double room (and if there is someone you are thinking of sharing with) – or if you are hoping for a single room (only a few may be available).  There has been a lot of interest in this trip, but hopefully it will be just the right moment for just the right amount of people. **Saimma will let you know if there is still space at this moment, or add you to the wait list.
2) After you have received confirmation from Saimma, you can use PayPal to make your $700 deposit for the core journey (for a shared double room) use the corresponding "Turkey trip" deposit button. A check is even better made out to Threshold Productions, 1288 Cherokee Rd. Louisville, KY 40204,
3) If you want a single room for the journey (and Saimma has said that one is available), you should also pay the single supplement of $700 at this time by using the deposit button a second time.
*Note: All initial deposits will be 75% refundable until July 10th, or possibly more if there is a waiting list and someone to take your place.
4) Once your deposit has been received, you have a place "on the tekke bus"!  Saimma will send you a registration form which you can fill out and return to her. 
Total land expenses for the main trip will be $2800 for double occupancy including breakfasts, most lunches, and all dinners (this does not include your airfare to and from Istanbul which you will arrange on your own).
A second payment of $1900 will be due June 1st. And then the balance of the costs (approximately $200 in cash) will be collected in lira or US dollars in Turkey as needed, paid to our bursar bashi to be used for donations and expenses incurred along the way. (You will probably wish to bring additional funds for some personal expenses, snacks, free time adventures including a couple of individual lunches, gifts, etc.)
***