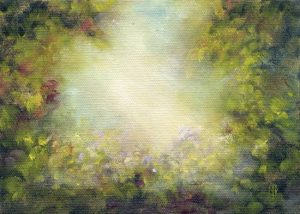 Threshold Society Theme for April 1999
Salaam means soundness, well-being, peace, and security.
Every human being is seeking this salaam.
How often do we attempt to use force or argument to achieve our own ends?
How often do we seek our own ends at the expense of others?
How often do we attain peace by means of peace?
A question is the key to the treasure of wisdom.
Mevlana says:
Make yur soul a shield,
Bear what God sends you,
Put down the weapon.
Whoever is headless saves his head;
The selfless cannot be struck.
Those wesapons are your selfish strategy;
The defense that wounds your own soul.
Mathnawi II, 3170-1
This month we might include the zhikr of Ya Salaam (100 times) in our regular daily practice.
My God our tender hearts are enraptured by You.
You Who are continually gathering all clarified intellects in order to know You.
Our hearts cannot be secure except by remembering You.
Our souls cannot be calmed except by seeing You.
~ A Prayer of Hazreti Ali
Painting: Peaceful Garden by Marina Petro