Download HeartSpace for iPhone free from from iTunes (UK) or from iTunes (US)
Download HeartSpace for Android free from Google Play
[See how to reset your app below.]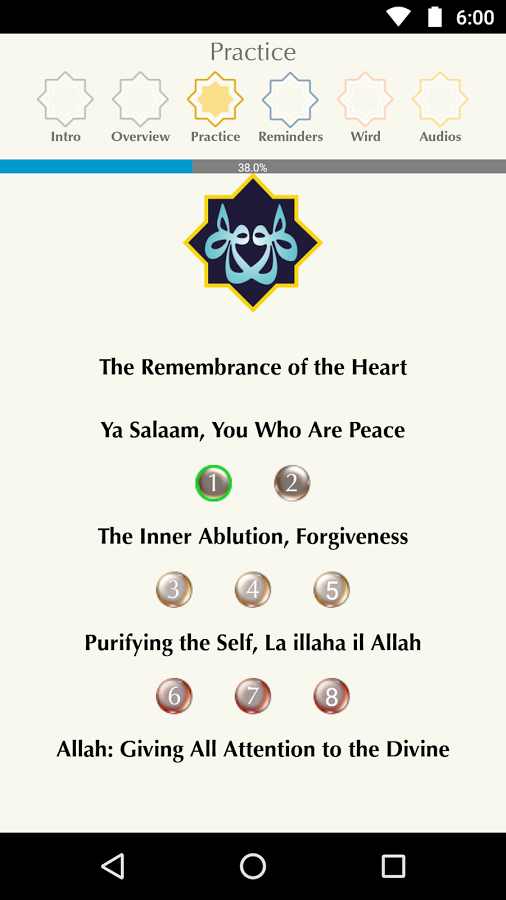 Can we use the Internet and smart phone apps to support our inner life? This is why HeartSpace has been created. It is just one of the ways that we will build the virtual tekke (Sufi lodge), the inner, invisible environment where transformation is nurtured. HeartSpace invites us into ourselves, into that presence where the divine dwells.
The first app to offer an experience of Sufi spirituality.
Supports remembrance and presence with inspiring texts.
Includes audio recordings of guided spiritual practices.
A treasury of inspirational texts from Rumi, Hadith, and Qur'an sent as daily reminders.
The core of HeartSpace is a series of guided practices that should initially be followed in sequence, but eventually can be listened to in any order and as often as you like. The free app is complete in itself, offering a comprehensive and many-leveled introduction to the practice of remembrance, or zhikr as it is called in traditional language.
Those who wish to continue and go deeper can subscribe to a version of the app that will offer further practices, more daily reminders, recordings of Sufi music and the Qur'an. We have also included a program that allows you to receive daily quotes drawn from the rich treasury of Sufi literature, especially Jalaluddin Rumi, and from the primary sources of the tradition, namely, the Hadith and the Holy Qur'an. We have chosen these selections to be useful in supporting the development of your inner life. You can also choose favorite quotes, both as a personal record and to share them via email and social media.
The purpose of HeartSpace is to awaken the consciousness of the heart through the wisdom and practice of Sufi spirituality. It is through the heart that a human being can experience the peace, inner strength and sense of well-being that comes through spiritual practice. True spirituality is based on experience more than beliefs. HeartSpace offers an introduction to traditional principles and practices shared across Sufi lineages. HeartSpace is not meant to replace lived spiritual guidance, but is intended to be an opening or a complement to your spiritual journey. All praise and thanks be to the Sustainer of the Universe.
Download HeartSpace for iPhone free from from iTunes (UK) or from iTunes (US)
Download HeartSpace for Android free from Google Play
We are aware of some problems with the "reminders" with some smartphones. We are working with our developers to solve the problem, and we ask you to follow some simple instructions to update your settings below. Even without the reminders function, the app has so much to offer!
Resetting your app
If you have been having problems getting your reminder notifications to work on your phone please follow these steps to reboot the app:
Go into your app store.
Find HeartSpace in your app list and UNINSTALL it from your phone.
Now SWITCH OFF your phone – not just standby mode.
Turn your phone back ON. If your phone starts immediately without booting up, you didn't switch it off. Go back to step 3 and try again!
Go into your app store and search for HeartSpace.
Download HeartSpace. If your app store says that you already have HeartSpace on your phone, go back to step 2 and try again!
Set your reminders.
If your reminders still do not come up in your phone notifications then just go into your app after the time you set the reminder and you will be able to read the selections in the reminders screen. With some phones the notification setting is still incompatible with the operating system but this should be working will all new models and updated operating systems.
Enjoy the app – there is so much on offer, the notification is a tiny aspect of a beautiful offering!