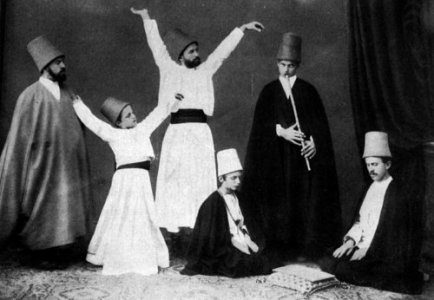 We come to you with gratitude for all whose generous support has allowed the work of Threshold Society to continue. For those who have been able to give, we thank you and ask that you continue your support. For those who have not yet made this commitment, we ask you to consider donating to Threshold Society if its work is meaningful to you. We need your support so that, God willing, the work may continue and grow.
The Threshold Society is rooted in the traditions of Sufism and inspired by the life and work of Mevlana Jalaluddin Rumi. For more than 20 years, under the guidance of our directors Kabir and Camille Helminski, Threshold Society has been an expression of the Mevlevi path, a path to Unity with the Divine, Love and Wisdom. By the Mercy and Generosity of our Sustainer and through your generous donations, Threshold Society has developed programs in spiritual psychology and practice, offered retreats around the world, and created a website which offers, free of charge, an education in the universal principles of spiritual realization and the Mevlevi tradition. Their work inspires a worldwide community that includes groups in South Africa, Indonesia, the Netherlands, Canada, the United Kingdom, and throughout the United States.
Through these years of directing the Threshold Society, Kabir and Camille have never drawn salaries and have supported the work with their own resources. Recently, when the Mother Dergah, Casa Paloma, had to be sold due to some unforeseen circumstances, they lost more than $200,000 of equity they had personally contributed to it. Now, however, through some extraordinary generosity they are settled in a new dergah in Louisville.
At this time, Kabir and Camille will be focusing more and more on the needs of our extended Threshold community and conveying a body of work to the next generation. The work of Threshold Society has breathed life into the vast and centuries old tradition, offering a "spirituality adequate to the times we live in." We hope to be able to contribute to some of the expenses incurred in the administration and communication of this work.
Maintaining even a minimal non-profit organization incurs many expenses including telephone, Internet, website, equipment and supplies.  These are the basic tools used in representing Threshold to the wider world.
Our residential retreats are kept to a tight budget to keep the cost affordable, however, your donations would allow us to offer more scholarships to those in need. Through the generosity of those who have greater financial resources our retreats can reach more members of our community, especially the young.
The Messenger of God, peace be upon him, said, "Purity completes faith. Gratitude fills the scale. Glorification and praise fill what is between the heavens and earth. Prayer is light. Charity is evidence."
Although many take nourishment from this work, only a fraction routinely donates to the Threshold Society. Please consider a monthly financial commitment, no matter how small. You may also consider remembering the Threshold Society in your will or with an annuity. Anyone interested in such possibilities can write to Rahima  (rahimamcc@sbcglobal.net).  She can offer some suggestions and assistance..
Our website offers the ability to make a one-time donation or to set up recurring monthly credit card donations (www.sufism.oeg/donate). If you live in the United States, it is also possible to set up a regular recurring donation through your bank. Rahima can help you with questions you may have about these options. You can contact her at rahima.mccullough@gmail.com. If you live in the UK, please contact Siema Taj at siemataj@gmail.com. We are grateful for your donations regardless of the amount or frequency.
In Gratitude,
The Threshold Development Committee
Khadim Chisti, Rahima McCullough, Khalila Platt, Patzia Gonzalez, Paul Leger, Selim Schaurer, Amnah Malik, Sadat Malik