Reflection on February's theme: The drop that truly knows itself is aware of the Ocean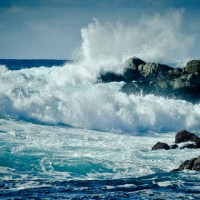 Last Friday, in a session I gave to a group of women on mindfulness and creative self-development, I introduced a heart-awakening meditation that involved the image of the ocean and the waves. It was a privilege for me to share this meditation that has its roots in the Sufi tradition, a path that lies close to my own heart. In many wisdom traditions we find references to the ocean or sea. In Chinese medicine they speak of the sea of tranquillity that lies under the chest. Within the Sufi tradition there is much reference in poetry to the sea and ocean. It is, for me, a powerful spiritual metaphor and one that I have grown up with. I have fond memories of my father telling me about the sea that is unlike any other sea. He was of course referring to Farid ud-Din Attar's The Conference of the Birds. I did not even grasp the name of this poet, but I was thankfully left with an impression that ingrained itself deep into me, and awe for this magical and beautiful metaphor. I longed to find the palace at the bottom of the sea, the palace of inner knowing. My father spoke about the venture to dive down to the depths of ourselves, to find the true self. Our true inheritance is buried like a pearl in the deep waters and it would take both an effort and grace to find it.
It does indeed take will and a surrender to know the ocean. Rumi says, "You have been walking the ocean's edge holding your robes high, resisting the urge to get wet; you must dive naked under, a thousand times naked under. Love flows down, love flows down."  For me this poetic extract speaks of our resistance. To find the ocean we need a transparency – the nakedness, the authenticity of self. It is an authenticity that is born from self-awareness. There is a surrendering to 'what is', to dive under, a thousand times under. To accept both shadow and light in ourselves, knowing that staying at the ocean's edge does not really nourish us because it is where we get caught up in ego-fuelled patterns and defence responses or entanglements. We are asked to take off our robes of self-delusion and become aware, aware of ourselves and aware of the depth of the ocean and all it has to offer us. The ocean is vast and contains all. The drop is separate and isolated. In self-awareness we experience spaciousness, connection, patience (sabr) and an openness to grace. How else can we know the beauty of the ocean, of God, so vast and limitless in mercy and compassion? A drop cannot contain anything but itself: its world is closed. But a drop that grows in self-awareness knows and becomes the ocean.
~ Sofya Ansari, Cardiff
March's theme is: Every relationship could be Being knowing Itself
We welcome your reflections on this theme, please email: thresholdsociety@yahoo.com
Shaikh Kabir's London visit
Shaikh Kabir will be giving a talk on "Sufism: A Hidden Treasure" at City Circle on Friday 14th, and doing a day event in Wanstead on Sunday 16th. More information here. We look forward to seeing everyone!
Listen to Rumi
For privacy reasons YouTube needs your permission to be loaded.
I Accept
Self and Selflessness (new article by Shaikh Kabir)
In considering how the human being can embody both self and selflessness, let's begin with a metaphysical perspective on the position that human consciousness occupies in cosmic existence. The human consciousness is a presence suspended between the Divine Absolute and a Cosmic-Life-Force that is associated with our intention, thoughts, and feelings. That's a mouthful, I know. Its meaning will become clearer, I hope, through the course of this article…read more.
Threshold Books
Threshold books are available to buy through Chickpea Press (UK delivery only). For a full list of available titles see here.
Events
Mar 14: Shaikh Kabir Helminski speaks at City Circle in London, 6:45pm. Venue: Abrar House, 45 Crawford Place, London W1H 4LP. Free entry.
Mar 16: A day event with Shaikh Kabir Helminski in London, 12-6pm. Venue: Christ Church Hall, Wanstead Place, London E11 2SW. More details here.
May 10: Muzammal & Shumaisa from Threshold Reigate are holding a one-day permaculture course at Willowbrook Organic Farm in Oxfordshire. To book your place see here.
Aug 29-31: Threshold Annual Retreat at Gaunts House, Dorset. More information due in May.
Get in touch
We'd love to hear from you – a favourite piece from Mevlana, your own poetry, reflections on the path…please do contribute. We learn so much from each other, may this space be an opportunity for community, connection and companionship.
Email: thresholdsociety@yahoo.com
Listen, O drop, give yourself up without regret,
and in exchange gain the Ocean.
Listen, O drop, bestow upon yourself this honor,
and in the arms of the Sea be secure.
Who indeed should be so fortunate?
An Ocean wooing a drop!
In God's name, in God's name, sell and buy at once!
Give a drop, and take this Sea full of pearls.

[Mathnawi IV, 2619–22, The Pocket Rumi]