Reflection on December's theme: Freewill is the effort to thank God for His gifts. ~ Mevlana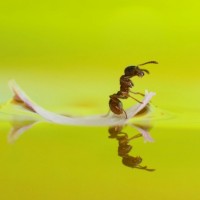 I imagined an ant…
She lives amongst a colony of a million ants. One day she drifts away from the colony and becomes lost in the forest. Alone, she wanders. The wind pushes and pulls her; every path she tries to take she's pushed a different way. Fighting against the relentless wind, she becomes angry and exhausted. As the struggle takes its toll, she finally lets go. In his great arms the wind carries the ant through the forest. Holding back her tears, her panic, she sees the endless forest and its beauty. She prays with her fear, sometimes with doubt and sometimes with surrender.

The ant takes shelter in a leaf one night, and the wind gently blows the leaf onto a river. Recognising the river, the ant realises her home is not far. She paddles and paddles, her impatience firing her need. But the river has its own wish. The wind pushes one way, the river another and the ant, exhausted, finally lets go of her paddle. In anguish and sadness she lies in the curls of the leaf. Feeling helpless she closes her eyes and cries.
In her slumber, the ant becomes aware of the sun shining on her face. She feels the motion of the river under the leaf, not realising how comforting the river's sound has become. Crawling forward she stares at the bright sun shining down. She notices how in the sun the river looks like silver. She smiles. Her eyes wonder at the beauty of the light in the forest; she watches for a while and, just as her lips praise the beauty of the earth, she sees. The forest around the river is familiar – because the river is circling the forest. If she is patient and watchful, when her home approaches she can paddle and with only a few strokes reach the river bank. 'Why has it taken me so long to notice' she berates herself. The ant stands at the edge of the leaf, braver and with a knowing heart…
I see free will as aligning myself to my truth; I guess figuring this out is the problem. The gift of gratefulness is the only way I am able to move to a further truth. It's only when I have reached the moment where I am truly grateful that I have managed to free myself from the pitfalls of quicksand.
~ Uzma Taj, London
January's theme is: Awakened Being is attention guided by the Heart in everyday life.
We welcome your reflections on this theme. Please email thresholdsociety@yahoo.com.
A New Year's Wish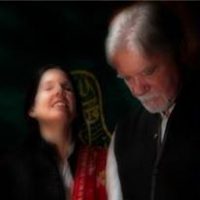 May this New Year bring forth new growth from the depths of our being.
In this gracious world that has been gifted to us, may we share the flowering of Love, its fragrance wafting back and forth through the realms of Existence and Non-Existence, the Seen and the Unseen, the Manifest and the Hidden, through the Mercy of our Most Generous Sustainer.
May it be love and beauty,
Camille and Kabir
May God have mercy on those who lead the way
and those who come behind, and those who fulfill their vows,
and those who seek to fulfill them,
with His Grace and bounty, His great benefits and favors!
For He is the best object of petition and the noblest object of hope;
and God is the best protector and the most merciful
of those who show mercy,

[1]

and the best of friends and the best of heirs

and the best replacer of what has been consumed

and provider for those devoted

who sow and till the soil of good works.

And God bless Muhammad and all the Prophets and Messengers!

Amen, O Lord of created beings! [Mathnâwi IV, Prologue]

[1]

Qur'an: Surah Yusuf (Joseph), 12:64

Rumi Alive

A talk by Camille Ana from a weekend of "Rumi Alive" with friends gathering in Alabama in remembrance in 2007. Not only is it a wonderful way to begin the new year, but Camille Ana shares some beautiful reflections on Prophet Muhammad – in time for his birthday!

Prophet Muhammad's birthday

This weekend is Milad ul-Nabi, the celebration of Prophet Muhammad's birth, may peace and blessings be upon him and his family.

Meditation in God is my capital.
Reason and sound logic are the root of my existence.
Love is the foundation of my existence.
Enthusiasm is the vehicle of my life.
Contemplation of Allah is my companion.
Faith is the source of my power.
Sorrow is my friend.
Knowledge is my weapon.
Patience is my clothing and virtue.
Submission to the Divine Will is my pride.
Truth is my salvation.
Worship is my habit.
And in prayer lies the coolness of my eye and my peace of mind.

[Hadith preserved by Hazreti Ali]

Read more hadith here.

Basics of Practice

We are encouraged to read and regularly reread the following four articles:

1. Basics of Practice within the Threshold Society
2. Suggestions for Practice Within the Threshold Society & The Mevlevi Tradition
3. Adab; The Courtesy of the Path
4. Responsibilities of Dervishood

And as a supplement:
5. Practical Aspects of Dervishood, by Mahmoud Mostafa
6. Love in Islam, by Mahmoud Mostafa

Mevlana's Urs celebrations

We had a wonderful celebration for Mevlana's Urs with Latif Bolat in Manchester, Bradford and London last month. Thank you to all who came, supported and helped in every way. More photos here.

 

Events

Jan 3rd: Threshold London Monthly Open Group, 7pm. Newcomers to the group are asked to seek a telephone introduction and briefing with the host/facilitator before attending.  Please phone Sadat on 07710 511517, or e-mail Mahmoud on hualone@gmail.com with your phone number so he can call you back — please do this at least two days in advance.

Feb 14th: Rumi's Circle will be hosting Mahmoud Mostafa as he presents a talk on Valentine's Day afternoon (Saturday) in Manchester on Love in Islam. More details will posted soon: www.rumiscircle.com

Get in touch

We'd love to hear from you — a favourite piece from Mevlana, your own poetry, reflections on the path… please do contribute. We learn so much from each other, may this space be an opportunity for community, connection and companionship.

Email: thresholdsociety@yahoo.com

See the UK regional information here. Join the UK mailing list, email thresholdsociety@yahoo.com.

O breeze of dawn! Do you bring news?
What news do you bring of the cheeks
of that moon-faced one?
Are there days that you play and sing,
or that you make zhikr of "Hayy and Hu?"
O wind! Blow more slowly— your fragrance is so pleasing!

[Rumi's Sun, tr. by Refik Algan and Camille Helminski]